Remedies to Get Success in Competitive Exams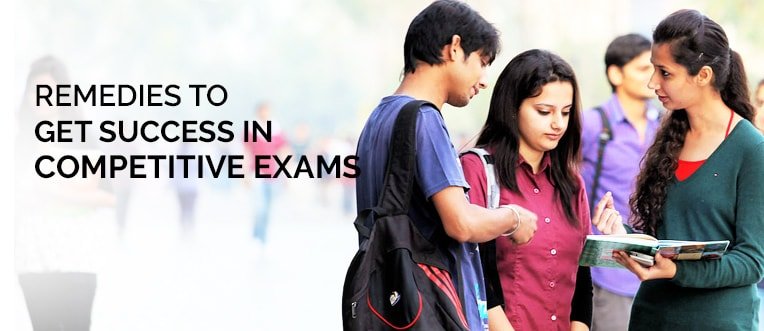 Since ages, academic education holds a special place in Indian Vedic astrology and thus, Gurukul formed in ancient years to aid people of all ages to acquire the knowledge about life, work and find the real motive behind the life. Without gaining knowledge, no one can get success in their life, no matter what career/business option he/she opts. And that's the major reason why the leading companies offer 3 month training to all their employees to make them aware of their business products/services. Education is important in everyone's life. It changes the way people think and make them enough confident about themselves. Today, everyone has realized its importance and this could be a major proof why even the illiterate parents also want to provide education to their child. This is surely a remarkable step towards the growth of bright future of Indians. Though education is important to get success in competitive exams, but luck is something that also holds equal importance in every aspects of life, including education as well. While considering all the factors, we thought to summed the remedies for success in competitive exams and overcome all the hurdles that come amidst of our way.
All those students/parents who are reading this article need to understand that study is important as well. You can't simply reply on these remedies to get the fruitful results in your life. These remedies will be helpful only if you are giving best in your studies but still not able to overcome all the fear due to the wrong placements of planetary positions in your horoscope. Jupiter planet holds a special place in every kind of education and thus, it is important for every student to have Jupiter at its right place to succeed in exams. Those who have good placement of Jupiter can reap the maximum benefits of success and hence, get settled in their life without any struggle. Those who have having wrong placement of Jupiter planet need to face several problems in their life and sometimes, they need to leave the schools/colleges to earn money in their early age and hence, face problems for the whole life.
Astrological Remedies to Follow to Get Success in Competitive Exams:
Before your exam starts, make sure to chant the 'Om gan Ganpataye namah' mantra 11 times to score well in the exam and get fruitful results. You can use any ink to complete the exam but the pen should be of red color with golden cap.
Try to offer Durvaa to Ganesh Ji on every Wednesday.
On every Thursday, tie the besan laddu and 7 haldi in yellow cloth and flow it in the river to get success in competitive exams.
While heading towards the examination centre, make sure to offer 1/2 litre milk in any temple of your choice.
Note:
The remedy should be practiced by your child to obtain its maximum benefit.
You can choose any remedy from the above given remedies to achieve the success.
Make sure to check the horoscope of your child from best Astrologer in India and accordingly, do the remedy to take your child out of depression.